Are you looking for rent-to-own appliances near you? Look no further! RTBShopper provides customers with the opportunity to purchase new appliances on a rent-to-own payment plan, and all of our latest deals include free home delivery so you don't need to visit a store to get what you need!
With our no credit needed online application, it only takes less than two minutes and you can be approved for up to $5,000 even if you have bad credit or no credit at all! Not only do we have guaranteed free home delivery on all appliances, but we can also bundle the set up costs into your lease.
Flexible Payment Options On New Appliances
At RTBShopper you can get the appliances you need without having to compromise your budget. We offer different payment plans depending on the total cost of your merchandise, and have payment plans for weekly, bi-weekly, or semi-monthly, and monthly payments!
Bad Credit? No Problem! At RTBShopper, getting an approval can be easy even if you have bad credit or no credit at all. And with rent-to-own, there are no long-term obligations because you rent the appliances and can return them at any time.
Every day, more and more people are learning about RTBShopper's flexible no-credit-needed payment options. If you're looking for a way to get those new appliances without having to spend money on them right now, we can help you out with that!
Ordering new appliances with us couldn't be easier - just fill out an online application!
Special Offers on New Appliances
If you're looking for top brands and the best deals, look no further than RTBShopper! We have a range of offers on new appliances, so you can find the perfect one for your home. Apply now and get free home delivery on all orders!
Refrigerators
Washers & Dryers
Air Conditioners
Dishwashers
Ovens & Range Cooking
Microwaves
Cash Price or Early Purchase Option
When you take advantage of the early purchase option in your lease agreement, you only pay the retail amount that you owe on your purchase and a small fee. This is perfect if you want to save money and get ownership of your appliances in less time.
If you can't afford to pay off the cash price, just make the affordable rent-to-own payments and you'll get ownership when the lease agreement is complete. Now you'll be able to enjoy brand-new appliances without having to spend a ton of money on one upfront payment.
Remember, you're just leasing the merchandise selected and can make rental payments or acquire ownership as soon as you're ready. The terms of the early purchase option may vary depending on which service you select at checkout, so make sure you read your lease agreement before you sign anything.
By leasing with RTBShopper, more customers than ever before are enjoying top-quality brands like Whirlpool washers & dryers, Samsung smart TVs, and much more!
Why a Lease Agreement Is Better Than Layaway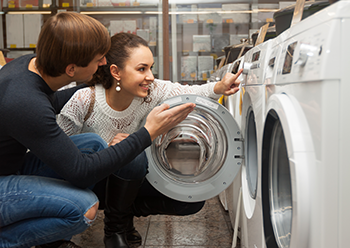 Flexible payment options like leasing provide more advantages than layaway. When you use our no credit needed services, you get to shop now and pay payments over time for your purchase. Instead of having to wait on the total cost to be paid like layaway, you get free delivery scheduled immediately and you get to start using your merchandise as soon as it is delivered to your house.
RTBShopper is the only rent-to-own appliances shop that you can apply at online with bad credit or no credit at all. We are here to help customers in every way possible, so don't hesitate to reach out if you have any questions about our products or services!
Appliances are an important part of any home, and they can be expensive. That's why RTBShopper offers a variety of buy now pay later lease options on all our merchandise and will bundle set up or installation charges into your lease.
This allows you to get the appliance you need, through flexible payment options, without having to wait or worry about how good your credit score is or whether you have enough cash in your bank account to cover the entire purchase.
Plus, our online application process is simple and takes less than two minutes to complete!
Please note: the delivery time may vary depending on stock levels and availability at participating locations and your proximity to local stores. We may contact you if we have any additional offers or pricing that are more accessible to you after your purchase is placed.