Are you looking for a new computer but don't have great credit even or the cash to pay upfront right now? If you are tired of your old desktop computer and need a new one we can help. At RTBShopper.com we have rent to own computers with no credit checks! Our computers include monitors, gaming PCs, laptops and we have much more available.
All of our buy now pay later desktop computers come with low monthly payments and a reasonable price that wont break the bank. When you sign up with RTBShopper.com, you can lease a new desktop computer from brands you love. in fact, it has never been more convenient to shop for new desktops with our easy application and approval can take only a few minutes!
Lease a Desktop Computer with RTBShopper.com
We carry a variety of options of computers, laptops, and accessories like a keyboard. We carry many brands with the newest high quality technology whether its for your personal use at home, for your office, or if you just want to play games with friends. You can get approved for up to $5000 with RTBShopper.com and rent-to-own desktop computers are the way to go!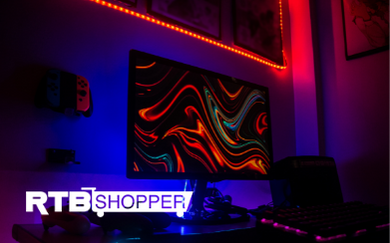 You can rent a desktop computer from brands like HP, Dell, Acer, Asus, Lenovo, SONY, & Toshiba at affordable prices so that you won't have to sacrifice so much cash up font. And the best part is you can lease a new desktop from us without a credit check!
Rent to Own Desktop Computers
We have the best desktop computers from the best brands in the game with the best deals. We make rent to own easy and convenient. These desktop computers are the latest in technology with many new exciting features. You can rent one for personal use, gaming, music making, or office work.
Our rent to own computer store is here to provide you with all of the newest desktop rent-to-own products at the best prices around!
Computer Monitor Payment Plans
A desktop computer monitor is the main component of your PC and getting the right type can help you in making the most out of your rent to own desktops and computers. It represents a considerable portion of your rent-to rent computers payment and you don't want to skimp on quality.
We have different types from top brands including HP, Dell, and many more. We have a screen that will fit your needs for your home or office! Check out our offers.
Rent to Own Gaming PCs
If you're a gamer, you should know what specs are needed for running games smoothly, and we have it! With rent to own computers from RTBShopper. you really get the best bang for your buck with rent to own gaming PCs. Start gaming with RTBShopper.com!
Accessories and More!
Whether you are working from home, gaming with friends, or just exploring online, we have quality computer accessories for you. We can get you a keyboard, webcam, and other accessories for your desktops.
Desktop Rent To Own With RTBShopper
Whether you like Apple computers, Microsoft machines or Lenovo laptops, we have the perfect laptop finance plan for you. Get approved for up to $5000 with rent to own laptops.
It's never been easier to rent a laptop! We have Desktop computers for everybody and you can get approved in an instant! We have thousands of products for you to look through so you can find the best desktops for your needs. You can filter to find a certain brand, design, or amount, so you can get the best deal.
Lease a Desktop Computer Instantly
When you shop with RTBShopper.com you have access to great deals on the best technology. When you fill out our easy application and finish the approval process, you can get an amount of up to $5000 toward your purchase!
Because we have no credit check, it does not matter what your credit history is like! You can rent to own computers and rent to own laptops so you are able to get the computer you want, when you want it!
When visiting our website, browse through all of our lease to own desktop computers. The options available are almost endless! We have great products from Dell, HP, Apple, Samsung, and more!
Get $5000 Now With Our Easy Approval Process
The checkout process is simple, just create an account on our website, fill out the application form and find the perfect Apple products for you. Completing the rent to own installment form will give you an instant approval. When approved, just pick your rent-to-own desktops and computer rentals.
Get Approved Faster With Us
The great thing about our rent to own program is that we have a quick application process in place. You can get approved instantly with RTBShopper.com
No need for the loan payments, down payment, or good financial reputation. Now you can apply today and get all the perks of rent to own. Ditch the high credit card payment, fees, and pay less per month with RTBShopper!
No credit card payments, financing, loans, and almost everyone is eligible! Visit RTBShopper.com today and see how easy it is to get approved for a purchase!
So and power up and start making payments on your first purchase right away with RTBShopper.com today.