RTBShopper.com is the best rent to own shop for your new appliances! We offer lease to own appliances with low monthly or weekly lease payments and no credit checks on our entire stock, perfect for those who want to purchase quality products but don't have a credit card, a lot of cash, or need a little time before they can afford it.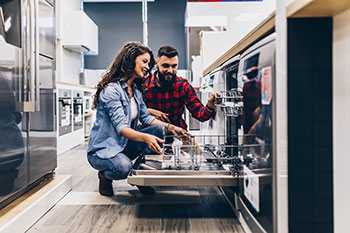 With a wide selection of rent-to-own appliances from top brands like Frigidaire, Kenmore and Whirlpool just about everyone will find what they're looking for in our selection of refrigerators, ranges, dishwashers, dryers, or any other appliance you could need both in stock and with competitive prices.
Rent To Own Appliances With No Credit Check
Apply online in minutes either before or after you find the items you want and there is no credit check or fees involved. If you get an approval and your approval amount is higher than the total cost of your cart then simply sign your lease agreement and we will schedule delivery with you for free or local pickup at one of your closest Best Buy stores.
You don't have to worry about payments because as a customer your payments are taken out automatically when you are paid. If you need to make adjustments to your payment schedule you can use the online portal or contact the customer service phone number on your lease.
All you need to apply for a payment plan is to be over the age of eighteen with a valid social security number or tax identification number, have a valid bank account and debit card, a valid government ID (like a driver's license or passport), and a a source of income (can include disability or social security).
There are many benefits to rent-to-own appliances and savings by paying low payments instead of one large payment upfront. Apply now and get free delivery on your order.
Refrigerators on Rental Payment Plans
If you need to upgrade your appliances today but can't afford the upfront cost of ownership then simply shop at our online store. We have thousands of rent to own refrigerators in stock. We can help you find the perfect deals for your budget so that you get the brand new appliance you need with flexible and affordable weekly or monthly payments. You could get an approval for a payment plan in only a few minutes - complete an application now!
Lease To Own Washers & Dryers
Browse our brand new washing machines on convenient payment plans or rent-to-own dryers that will suit your home's needs perfectly and at an affordable monthly cost! Buy now and pay later even if you have bad credit or no credit. Apply now and find out what your budget is.
Rent To Own Ovens & Ranges
RTBShopper.com has a wide selection of ovens for rental with no credit check low weekly or monthly payments that are perfect for buying now but paying later! Upgrade your kitchen today and pay later with no hidden fees. Browse our selection of gas or electric stove tops, wall ovens, free standing ranges, and more!
Lease To Own Small Appliances
Small appliance are available with no credit check and weekly or monthly rental payments. Many of our small appliances come with free same day delivery or in store pickup at a local shop. Browse our selection of lease to own coffee machines, food processors, ice cream makers, rent to own microwaves, and more!
Air Conditioners on Payment Plans
Beat the summer heat with an air conditioner on rent to own payment plans. We offer quality rent-to-own ACs from top brands like Frigidaire, Amana, GE, LG and more!
Cash Price Purchase Agreement
What could be better than brand new rent-to-own appliances with no credit check? Free delivery (and even same day delivery sometimes) and flexible payment plans with cash price options.
When you take advantage of the cash price (this is usually within 90 days of your lease agreement starting, check your lease agreement as this may vary depending where you live) you gain ownership of your appliance and the rental purchase agreement is over. Sometimes there can be a fee for using the cash price option but it's a cheaper total cost than paying all the lease payments for the entire rental purchase agreement period.
If you can't find the appliances or other merchandise you want on our shop then please contact our customer service and we will check for availability and find the best deals for the items you want.
The benefits of renting to own are endless, and RTBShopper.com is the perfect solution for your needs! Whether you need a few weeks or months before you can afford that new refrigerator, dishwasher, stove, oven, washer/dryer set-up - we have an option for any budget. We offer affordable lease payments with no credit needed on our entire stock so there's nothing stopping you from getting what you want right now. Apply today!