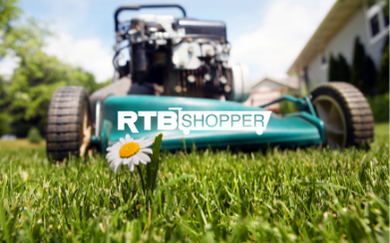 Lawn Mower Financing No Credit Check
A brand new lawn mower can be really expensive, and if you have maintenance to keep up, you can't wait until you save up for a new one. Thankfully, with RTBShopper.com, you don't need good credit to get a lawn mower.
We have lawn mower monthly payment plans no matter your credit score. With this type of financing you can pay off your new equipment over time with low monthly payments. No need for a loan from the bank and you do not have to wait to build your credit. Even with a bad credit score, you can pay overtime with our agreement and you can get your lawn mowers right now!
Lawn Mower Monthly Payment Plans
Most people don't want to pay for a lawn mower all at once, and that is why we offer flexible financing plans. Our payment plan options make it possible for you to split the cost into affordable installments over time with low monthly payments.
When you participate in our buy now pay later programs, you have access to great deals on lawn mowers at low prices . You also get free shipping on your purchase and you may even be able to pick it up the same day at participating local stores.
Rent To Own Lawn Mower Monthly Payments
Our approval process to get a new lawn mower is super easy and it takes only a few minutes. Just head to our website RTBShopper.com and shop for your lawn mower. When you go to check out, just answer a few easy questions on our application to see if you qualify for our buy now pay later program.
When you complete our application and you are approved you can start shopping for a new lawn mower in no time. Why wait until you can afford a new lawn mower when you can begin leasing one right now. After you apply you may be approved for up to a $5000 amount.
Lawn Mower Financing Has Never Been Easier Than With RTBShopper.com!
Lawn Mower Financing With RTBShopper.com
We at RTBShopper.com have a wide variety of lawn mowers that are perfect for anyone. You can shop a wide selection of affordable lawn mowers that you can sort on our website. So, whether you are looking at riding lawn mowers, push mowers, zero turn mowers, or a self propelled lawn mowers for your lawn maintenance needs we have affordable options for you with low monthly payment plans.
We also provide free delivery on every order that you purchase. We carry only the best name brand products for your lawn and grass such as Craftsman, Black & Decker, Greenworks, Lawnmaster, and other high quality brands!
RTBShopper.com's Easy Approval Process
Our online application is easy. All you need to apply for a lease agreement is your full name and social security number (or tax identification number), a drivers license or other government issued identification card, a source of income (income can include retirement and disability), and a valid bank account.
There is no cost to apply, and tax is included in your lease, so apply today and let us help get you what you want without the worry - even if you are declined it won't hurt your credit score since we don't do a credit check.
We offer same day approval so that you can get what you want when you want it. If approved, we will ship your new lawn mower within 24 hours of receiving the application and processing payment. We also include free shipping in our price quotes to make sure there are no hidden fees or charges - just a good deal all around!
So do not wait to get that new lawn mower you've been looking at. Begin shopping with RTBShopper.com and you can rent a lawn mower without a credit check!