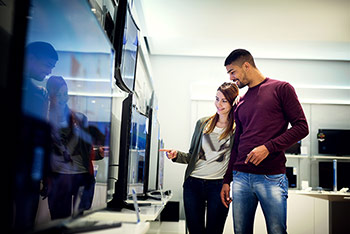 If you're looking for Snap Finance appliances, RTBShopper is an online store that allows you to spend your Snap Finance lease credit on new appliances like a washer and dryer set, or a new refrigerator. Don't have a Snap approval yet? You can apply directly on our website in only a couple of minutes, even if you have bad credit!
Rent-to-own appliances are an excellent way to provide your family with new, high-quality appliances without breaking the bank and paying full price upfront.
RTBShopper specializes in lease-to-own washing machines and dryers as well as other modern-day kitchen appliances and laundry appliances such as refrigerators, dishwashers, ovens and range cookers, microwaves, KitchenAid mixers, and more! We have tens of thousands of products organized in categories or that you can find using our easy search tool.
In this article, we'll discuss the benefits of rent-to-own appliances through Snap Finance and RTBShopper and why lease-to-own appliances are a great alternative to layaway, a traditional loan, or credit cards.
Snap Finance Provides Easy Financing
Snap Finance provides easy financing for people with bad credit or no credit, so you can start shopping for new appliances now, apply online in minutes, and get an approval for up to $3000. It's not a traditional loan, but a consumer lease that spreads the total cost of your purchase over 12 months of easy payments.
How much can I get approved for?
Even if you have bad credit, you may receive approval for up to $3000 in lease credit with Snap Finance. You can use this rent to own financing for appliances, washers and dryers, computers and tablets, laptops, furniture, or even health items like wheelchairs or exercise equipment.
Create a free account today and you'll receive special offers and deals in your email that help you save even more money on your purchase.
What if I have bad credit?
Bad credit doesn't matter because rent-to-own financing is based on how much you can afford, not what your credit score says.
How do rent-to-own appliances work?
You make a down payment of around $50 (it varies based on your purchase price) when you are approved for financing from Snap Finance and submit an order to our shop. Then it's as easy as making monthly or weekly payments, depending on the terms of your lease financing agreement.
How much will I pay each month?
The rent-to-own program is a lease where you're responsible for paying rental fees each month until the total cost of your purchase is paid.
Can I pay off my consumer lease early?
Snap allows you to pay easy payments or pay off the lease and get ownership faster through an early buyout option or "cash price" option. When you pay off your lease early, you own your rent-to-own appliance outright.
Can I use my lease credit at other stores?
Snap Finance works with thousands of retailers and brick and mortar stores, but at RTBShopper you can get the appliances you need with free home delivery and a customer service team that is ready to help you every step of the way. If you don't want to shop online they also provide an easy search tool on their website to help you find a store near you.
How do I return my rent-to-own appliances?
Snap Finance makes returning your rent-to-own appliances easy. Just call their free customer service number, make sure you have all of your original packaging materials, and they'll allow you to return your working and undamaged appliances to end your rental at any time!
How do I get started with Snap Finance?
To apply for Snap Finance appliances, simply visit this link to apply and fill out the application form.