Are you interested in buy now pay later electronics? Our online catalog of buy now pay later products features tens of thousands of products that you can buy on a payment plan without a credit check. All you have to do is fill out the online application, and you'll find out instantly if you are approved!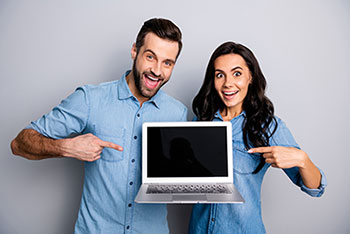 With an approval you can rent-to-own up to $5000 worth of products and have them shipped to your front door for free or pick them up at one of our many nationwide partners. These include laptop payment plans and many other buy now pay later electronics such as Gaming PCs, tablets, cell phones, and even video game consoles.
The buy now pay later electronics program is a perfect option for people who need something now but don't have the cash up front. Our laptop payment plans can help make your purchase even more affordable and manageable! So if you're looking for buy now, pay later products or a laptop you can pay with payments over time, start shopping now!
Laptop Payment Plans
Laptops are an essential part of modern life. Whether it's work related or personal time spent on social media sites like Facebook and Instagram, everyone needs their own device with plenty of screen size and battery capacity. Laptop payment options from RTBShopper.com can provide many benefits when affordability becomes a concern. Take advantage of the online approval process that takes only few minutes and find out if you qualify for up to $5000 to spend toward a new laptop or Apple Macbook today! Check out some of the hottest laptops we carry right now, all on affordable payment plans:
Buy Now Pay Later Electronics
There's a chance you've been hearing about buy now pay later electronics more and more lately. As things get more expensive it's harder and harder to shell out a large amount of cash to buy something. With inflation even graphics cards and PC components have doubled in price in the last few years. You might hear these payment plans called buy-now-pay-later or buy now pay later installment plans.
Find out how easy it can be to get new gadgets shipped right to your doorstep on time with no credit checks needed in order to qualify because we offer laptop payment options too!
Laptop Payment Plans - The Pros & Cons
There are many pros and cons to using a buy now pay later plan or rent-to-own leasing agreement. One good thing is that there is never a credit check involved with applying for one of our lease to own plans, so whether you are approved or not it won't hurt your credit score to fill out the online application.
Unlike layaway you also get to pick up your item the same day or have it shipped to your home - you don't start paying toward the rent to buy agreement until you have and can use your new products. This is great if you can't afford to pay for it all upfront but need to buy the item immediately.
Make sure you read the fine print before signing up for this kind of purchase though as you may pay significantly more than if you had the cash on hand and did not use a rental agreement. We work with lenders who offer a same as cash price as long as you pay off your lease early (usually a few months), and you can save a significant amount of money by electing to use the "same as cash option."
Buy Now Pay Later at RTBShopper.com
With so many benefits, it's no wonder rent to own laptops and other buy now pay later options are becoming more and more popular. We make it super simple, and our friendly customer service agents are standing by to help you find what you need and with affordable payments.