Ready to buy something but don't want to pay for it now? Maybe you are low on money or don't have credit cards? RTB Shopper is one of the best buy now pay later sites on the internet to get rent-to-own financing, or a payment plan, even if your credit score is bad or have no credit card or a balance in the bank account.
Our payment options area available with no credit check and all of our orders come with free shipping, so you can shop today and pay later! You could get approved for up to $5000 in lease credit and pay payments later.
No credit card? No Money? No problem. Shopping has never been easier with bad credit than with RTBShopper.com and our top-of-the-line pay later services. When you fill out our risk free application you'll find out instantly if you are approved and how much you can purchase. Your credit score won't be affected because our app doesn't check with traditional credit bureaus to see if you qualify for rent-to-own financing.
Our website will make shopping more convenient while also saving money because there is no need to worry about paying up front. We have weekly and monthly payment plans so you an make a purchase through our online store today but pay installments in the future.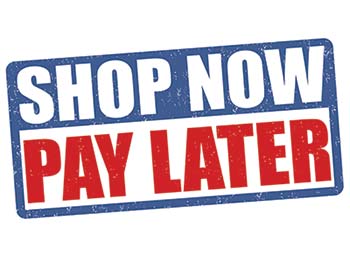 You may have heard of services like affirm, quadpay, klarna, paypal pay later, afterpay, splitit, sezzle, acima, tempoe, or other pay later services that you can find on many online stores and retailers. They are all services you use to buy now and pay later for purchases you need, so that you can make payments and split up the cost over weeks or months to save money. Our website utilizes buy now pay later later services like these to provide an easy shopping experience for people who otherwise don't have access to credit cards or who have no credit with traditional credit bureaus.
On RTBShopper.com, You'll be able to find anything from TVs, computers, laptops, phones, video games, and much more, all with our buy now pay later payment plan. Creating an account on RTBShopper is free and you'll be able to make purchases online as soon as you are approved.
Plus, there's no hidden fees to worry about; with rent-to-own there is 0 interest rate (you are not charged interest) and instead you are just paying rental fees when you pay your monthly payments. If you're looking for the best buy now pay later site on the internet, RTBShopper is where it's at.
Read more about how you can buy now pay later with instant decisions at RTBShopper.com!
What is Buy Now Pay Later?
Buy Now Pay Later is a type of payment plan that allows you to buy the item now and pay for it in installments, typically on a monthly basis. Usually people who have bad credit and don't qualify for credit cards or other traditional forms of credit can still qualify for a payment plan through a pay later service.
RTBShopper is one of the best buy now pay later sites you can find online, since we don't require credit checks and offer free shipping or same-day pickup on all of our orders! Plus, all of our products are brand new and come with manufacturer warranties and easy return policies if you don't like your item within the first few days for any reason.
Pay Later Apps - What do you need to apply?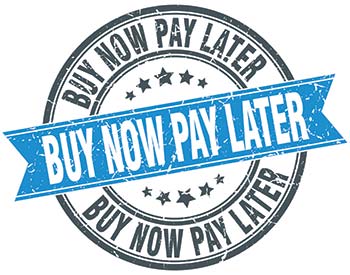 So what are you waiting for? Fill out our online app and get approved for up to $5000 today. We'll show you instantly if you are approved as soon as you submit the app and how much can be charged against your account.
In order to apply you simply need to be over the age of 18, have a valid government-issued I.D. like a driver's license or passport, and to have a valid US bank account which matches the name and address you use to get approved on your lease application.
If you have any questions about our site and the pay later service, please don't hesitate to contact us at: [email protected] or call us at 855-785-6501. We are here 7 days a week to answer your questions.
How do I make my payments?
You can make your lease payments using either a debit card, credit card, or through automated withdrawal from your bank account. Our pay later option is easy and you can pay your payments online through the lender's website or adjust your payment schedule over the phone too. If you need any help with your lease please contact us and we'll help you!
Disclaimer: The advertised service is a rent-to-own, lease-purchase, or lease agreement. It is not a loan, credit line, credit card, or financing. While no credit history is required, Acima and/or Tempoe obtains information from consumer reporting agencies in connection with a lease application. Initial payment may apply. Lenders do not charge interest but other fees may apply. Cash Price, when available, includes a markup over invoice price. Acquiring ownership by leasing costs more than the retailer's cash price. Late fees may apply for late payments. Merchant participating locations only. Not all applicants are approved. See lease agreement for details.
Why Buy Now Pay Later?
Why not? Think about it…maybe you've had your eye on a new Smart TV. Or maybe you want to build a home theater where your kids can gather with their friends and watch movies or sports events. Or maybe your son or daughter is into gaming, and he or she want the latest system to keep up with his or her friends.
But let's face it…electronics can be very expensive and may not be considered "necessities." It can sting to pay for a TV or gaming system all at once. Our buy now pay later program allows you to do just that! Get your electronics now and pay low monthly fees. You basically rent to own your favorite electronics and pay on your own terms.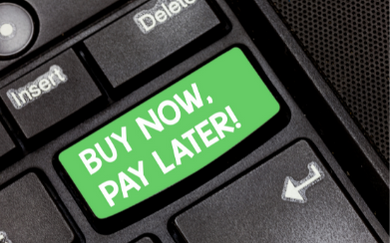 Benefits of using our rent to own program include:
No payment upfront.
No hidden fees.
Safe and secure payments.
You choose the payment that fits your pay period and budget.
Find out if you are approved instantly! No waiting around.
Zero stress on coming up with a lump sum at once.
Easy application.
No credit, no problem.
Enjoy your life today!
What If I Don't Have Good Credit?
That's OK! Our program is meant for everyone. We understand life happens and our approval process is not based on your credit history. So, even if you have bad credit or no credit, you may still be approved for up to $5,000 worth of products.
How Do I Get My Products After I am Approved?
We make it easy! Depending on what time you get approved, you may even be able to pick up your products that same day from a local Best Buy. We will search your area and find the nearest Best Buy that has your product in stock and then you can pick it up. Or, if you prefer, we can have it shipped to you. We make it easy and convenient for you!
What Types of Products Can I Buy Now and Pay Later?
At RTB Shopper, we carry a wide variety of products that you can rent to buy. We have computers and tablets, Televisions, audio and video products, cameras and camcorders, appliances and furniture, video game systems and products, drones and quadcopters, smart watches, headphones and earbuds, cell phones, vacuums and mops, toys and games, cell phones, health and fitness products, garage and outdoor products, lawnmowers and landscaping products, grills and smokes and mattresses. Search through our inventory of great products to see what you need today!
Want to Get Started?
If you are ready to get your products, simply add what you want to your cart, continue to checkout, and find out if you are approved. That's it! Easy breezy. Once you are approved, you pay a one-time fee of $50 and then
you set up the monthly payments according to your pay period and your budget. Say goodbye to large monthly fees and costly upfront purchases. We got you!
Questions? Contact us and a friendly professional will answer all your questions. We are here to help and make your rent to own process easy as pie.