Are you tired of playing on low-quality PCs that are always breaking and needing repair, or are you looking to buy your first gaming pc but don't know where to start? Are you a gamer who wants to play the latest high technology games at their highest quality, and with all of the newest features? Either way, RTBShopper.com has tens of thousands of computers in stock! You can rent a gaming pc or gaming desktop computer with monthly payments and no credit checks. We have thousands of desktop computers, gaming desktops, and laptop computers for rent on our easy to use online website.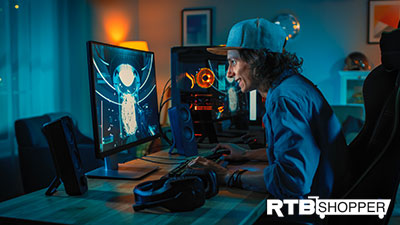 All you need to get approved for up to five grand in rental electronics and start gaming is to be over the age of 18, have a valid ID card like a driver's license or passport, and to have a valid bank account. Our rent-to-own computer service is risk-free and there's no commitment until you sign an agreement to rent a computer. What are you waiting for? Call us today at 855-785-6501.
Rent a Gaming PC
We offer high performance gaming desktop computers and laptops for purchase from all the best and latest manufacturers like ASUS, Alienware, Dell Inspiron Gaming Laptops, MSI Gaming Notebooks and more. You can also rent monitors, keyboards & mice, and even processors and graphics cards so you can have the computer rental experience of a lifetime at an affordable price.
Whether you are looking for your new computer to have a high-performance Ryzen processor or an Intel Core i9, our gaming desktops and laptop brands are top of the line and let's face it - to purchase performance computers nowadays you gotta pay to play. But when you rent computers from RTBShopper you get free same day delivery with in-store pickup (based on availability) or it can be delivered to your home (delivery is also free). We have local stores with inventory available.
Gaming Desktop Computer or Gaming Laptop?
If you are looking to rent a gaming desktop, desktop computer, or laptop then RTBShopper offers powerful and reliable desktop computers and laptop Dell, HP or Lenovo, and any other brand you could want to buy. RTBShopper also has iconic brands in laptops such as MSI Gaming Laptops which have thin form factors but offer high end specs capable of playing popular games on an HD monitor. Plus they're ultra lightweight so it's easy to carry them around.
The decision between a gaming desktop and a gaming laptop is usually based around the performance of the processor and graphics card. The graphics cards in desktops are usually more powerful since they do not rely on a battery, and the processor is usually better too. But sometimes you can find a gaming laptop that can still make the cut and without error handle all your top games and still display at 60FPS.
It could be as simple as whether you are trying to take your computer back and forth to the office or just do gaming, media or video editing, or build software at home.
Gaming Desktops on Monthly Payment Plans
The monthly payment plan is the perfect service for gamers on a budget, technology is expensive but you can get your new computer with no credit check and no down payment when you lease your new computer with us. Don't wait until it's out of stock, buy your new gaming desktop at a low monthly or weekly price with no credit check only at RTBShopper! When you do a rental agreement with RTBShopper there is also no interest and you could pay off your lease within 90 days to get the cash price. Don't wait until our inventory is gone - get your custom gaming pc today!
Protect Your Gaming Desktop Computers with RTBShopper
All of our gaming PCs come with a 1 year manufacturer warranty (or better) so you can get get it fixed for free if anything goes wrong or it doesn't work as expected. We offer competitive prices and your rental agreement includes all applicable tax and no hidden fees.
RTB Shopper offers not only high quality computers on the best monthly payment plans but great customer support too. If you need help with the price or even finding the right graphics card to upgrade your existing gaming desktop, our rental specialists are ready to help you with your customer service needs. . We are available from Monday through Friday from 10am - 6pm EST and Saturday & Sunday until 4pm EST so contact us today at (855) 785-6501 or visit our online catalog of rent-to-own products today! If you need help with our services don't hesitate to email or call us!