Monthly Payments are a new way to buy your favorite console like a Nintendo Switch. Buy now, pay later and pick up a new Nintendo Switch as soon as today instead of making one larger payment up front. This is perfect if you don't have credit cards and want to make smaller payments, but unlike traditional layaway you get to start using it now. We offer same-day pickup so you can access your new Nintendo game console as soon as today or have it mailed to your address with free shipping.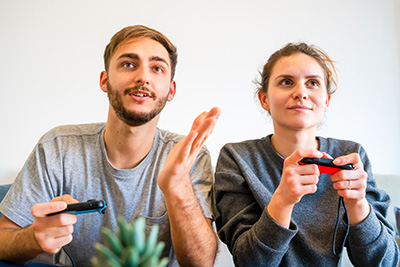 What is the Nintendo Switch Payment Plan?
With rent-to-own and a monthly payment plan you can pay installments starting at $45 a month and pick up a new Nintendo Switch as soon as today instead of making one larger payment up front.
Even if you have bad credit or no credit you might be approved for up to $5,000, and can still be gaming on a new Switch as soon as today and at a low upfront price.
Rent to own offers a way to buy products that are too expensive up front but you can't pay them off in one go. You make payments to rent the product over time and then eventually when the rental period is complete you own the item.
What are the Benefits of the Nintendo Switch Monthly Payment Plan
For one you can get your hands on the Nintendo Switch without having to pay for it in one lump sum, and when you choose Acima Credit at checkout, and get approved, any payments toward your lease will be reported on your credit history which can help build your credit score and help you get traditional credit cards or financing down the road.
If you don't want to spend a ton of money upfront then monthly payments are perfect!
It only takes a few minutes to find out if you are approved for as much as $5,000, and then you can purchase the latest and best video game consoles with free shipping.
Plus there is no credit check when you apply so it won't hurt your credit if you are declined or are approved but do not want to buy anything.
Almost any product that is too expensive up front but not big enough – like furniture or appliances - can be rented with rent-to-own at RTBShopper. If there's something you can't find on our website let us know and we may be able to still find it for you.
How to Sign Up for a Nintendo Switch Monthly Payment Plan
In order to apply for a payment plan on our website you must be 18 years of age or older. You also need a driver's license or other government-issued identification card, a valid bank account, and a social security number or tax identification number.
If you have any questions or need more information, please feel free to contact our customer support by emailing us at [email protected] or by calling us at (855) 785-6501. We are available Monday through Friday from 08:00 AM - 07:00 PM EST, Saturday from 10:00 AM - 6:00 PM EST, and Sunday from 10:00 AM - 4:00 PM EST. Our representatives are ready for assistance. We're always happy to help!
We offer monthly payments dozens of categories of items including gaming consoles, furniture, appliances, rent to own computers, electronics, mattresses, and much much more! So take that big ticket item off your list today because we know it's hard not having money up front when there is something you need RIGHT NOW.