Do you need a new ebike but don't have the money to buy one outright? RTB Shopper can help! We offer ebikes for adults on a payment plan, so you can get the bike you want without breaking the bank. We have a wide selection of e-bikes to choose from, and we even have some models that are available for purchase on a payment plan. So what are you waiting for? Start shopping rent-to-own electric bikes today!
What Is An Electric Bike?
An electric bike is a type of bicycle that is powered by a battery. It allows you to get around without having to pedal, which makes it a great choice for people who want to save energy or are unable to ride a traditional bike. It has integrated lights, a hub motor, disc brakes, and mid-drive motors.
The built-in lights help you stay safe while riding at night, and the hub motor helps you to easily get up hills or across busy streets. The disc brakes provide superior stopping power, and the mid-drive motors help to give you more power as you ride.
The Future Is Electric Bikes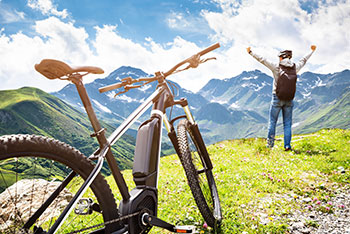 Electric bikes have been around for some time but are just now becoming more popular, especially amongst young adults.
The electric bike was first created in 1895 by e-bike pioneer Hosea W. Libbey and has been evolving ever since. In the early days of the electric bike, they were only ridden by wealthy individuals because of the high price tags.
However, as technology has progressed so have the prices for e-bikes making them more affordable for the everyday person. The battery life alone has extended its range so you can haul and deliver with speed.
Finally, An Ebike For Adults
Whether you're going up trails with steep hills, commuting in the city, or out in the country on a trail adventure, an e-bike can give you the power to ride like never before.
Affordable Ebikes have become increasingly popular in recent years as their technology has improved and prices have come down. If you're looking for an e-bike, there are a few things you should keep in mind before making your purchase.
First, decide what type of e-bike you want. There are three main types of e-bikes: pedal-assist, throttle, and mid-drive. Pedal-assist e-bikes provide power when you pedal, throttle e-bikes have a throttle that you can use to get power on demand, and mid-drive e-bikes have a motor in the middle of the bike that provides power to the pedals.
Second, decide what size e-bike you need. E-bikes come in a variety of sizes, from smaller folding bikes to larger cargo bikes. If you plan on using your e-bike for commuting, you'll want something that's comfortable and fits your needs.
Third, decide what features you want on your e-bike. There are a variety of features available on e-bikes, such as lights, fenders, racks, and more. Choose the features that are important to you and that will make your e-bike experience better.
Finally, research different brands and find the best e-bike for you. There are a variety of brands that make e-bikes, so it's important to do your research and find the one that's right for you.
Rad Power Bikes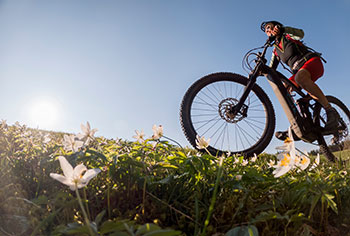 The best electric bike is one that gives you a smooth ride and you can't have a smooth ride without Shimano hydraulic disc brakes. That's why we love the Rad Power Bikes brand. Not only do they have a ton of different e-bike models to choose from, but all their bikes come with Shimano hydraulic brakes as a standard.
Some electric bike options come with front and rear lights but with Rad Power Bikes, you get a headlight and taillight included with your purchase. And if that's not enough, you can always take advantage of our payment plan to make it even more affordable.
As far as electric bicycles go, this brand offers a superior ride to others with a speed for biking as high as 20 mph. Once you start pedaling, you'll have five levels of pedal assist to choose from, so you can find the perfect level for your needs.
You can also use the e-bike without any assistance at all if you want to get a workout in. If you're looking for an e-bike that will give you a great ride and won't break the bank, then Rad Power Bikes is the way to go.
Plus, you can get your new electric bike on a payment plan at RTB Shopper. So there's no need to wait!
A Commuter Bike Like No Other
When it comes to a commuter option for cycling, quality matters. You want commuter e-bikes that have fat tires or wider tires to carry you a further range without as much effort. The ANCHEER 26" is perfect for anyone who wants to get around town without breaking a sweat. Riders with a long commute want a lighter bike that can still maneuver the pavement and still have fun. There are also mounting points for some rides, so you can strap on whatever you need and go. The last thing you want is a low-end suspension with a full-size bike while heading to the store or work. You can also go up to 28 miles on a single charge, so you can make it to your destination and back home without any problems.
This e-bike was designed with commuters in mind, as it comes equipped with a rear rack and fenders, so you can easily carry all of your belongings with you on your ride. Plus, this powerful fat tire e-bike also has a headlight and taillight, so you can feel confident riding at any time of day.
If you're looking for a commuter e-bike that will make your life easier, the ANCHEER 26" is the perfect option. And now, you can get it on a payment plan at RTB Shopper!